Fashion
10 Stunning Corduroy Pants Outfits for Women to Rock This Fall
Corduroy, that timeless fabric reminiscent of crisp fall days and cozy fireside evenings, is making a colossal comeback. If you thought corduroy was only for your grandparents or those outdated history professors, think again. This year, the fashion streets are witnessing a corduroy revolution— and trust us, you'll want to jump on the bandwagon.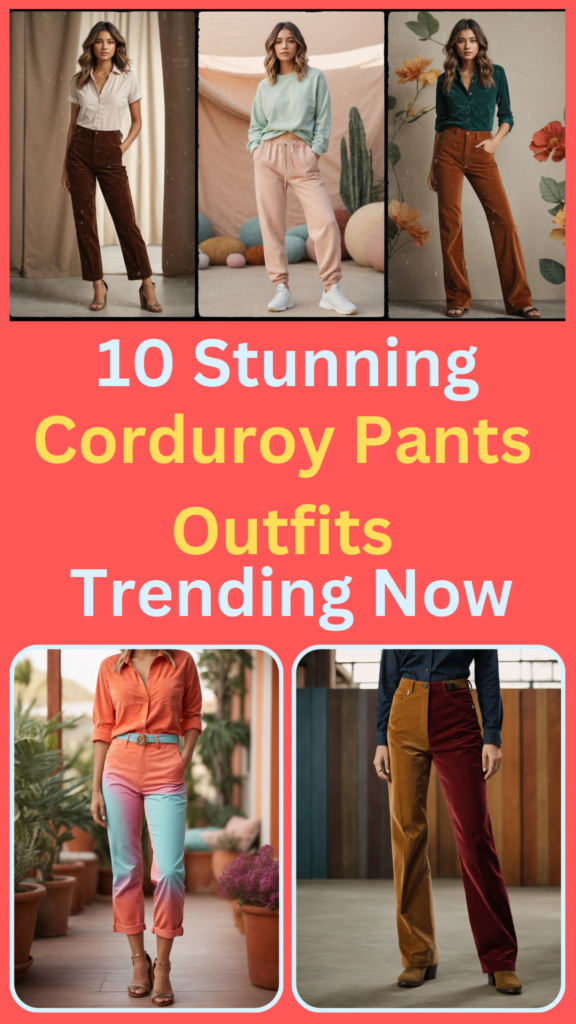 Retro Revival
Ah, the 70s, a time of disco, bell-bottoms, and freedom! Rock a pair of high-waisted corduroy pants in earthy hues like burnt orange or mustard yellow, and you're instantly transported back in time. Pair with platform heels, a flowy blouse, and maybe even a suede jacket. It's a retro look that shouts, "I'm here to slay!"
Modern Slim Fit
Not everyone's cup of tea is the flare of the 70s. For a more contemporary twist, opt for slim-fit corduroy pants. Neutrals like beige, grey, or navy are all the rage. Pair them with ankle boots or clean, minimalist sneakers for an outfit that's effortlessly chic yet practical.
Corduroy Culottes
For those warm fall days where it's not quite chilly but not exactly warm, corduroy culottes come to the rescue. Imagine them in deep colors like burgundy or teal. Pair them with a tucked-in tee or a light sweater, and voila! You have a casual, chic look perfect for brunch or a day out with friends.
Patchwork Play
Who said corduroy had to be boring? Dabble in a bit of creative expression with patchwork corduroy pants. Mix and match shades, or even throw in some patterns. It's a statement piece that screams confidence and artistic flair.
Tapered Ankle
Simplicity often leads to elegance. Corduroy pants that taper at the ankle, especially in classic shades like chocolate or black, can be your go-to for various occasions. Whether it's a casual office day or a dinner date, the tapered ankle offers a versatile and flattering silhouette.
Corduroy Joggers
Comfort meets style with corduroy joggers. Think pastel colors and a relaxed fit, ideal for those days when you want to lounge but still look put-together. Elastic cuffs, a drawstring waist, and perhaps a graphic tee? You've got the perfect ensemble for a coffee run.
Colorful Capris
For the bold and brave, colorful corduroy capris can be a delightful addition to your wardrobe. Dive into summer-inspired hues like lilac, turquoise, or coral. Paired with neutral tops and maybe some quirky sandals, you're in for a fun and youthful vibe.
High-waisted Elegance
The classiness of high-waisted pants is undeniable. Now, couple that with corduroy's texture and colors like deep wine or charcoal. Throw in a wide belt, a white blouse, or even a turtle neck, and you're channeling some serious boss-lady energy.
Printed Patterns
Why not spice things up a bit? Go for corduroy pants with subtle floral or geometric prints. It's an unexpected twist that adds dimension and intrigue to your outfit. These aren't your ordinary corduroy pants; they're a conversation starter.
Two-toned Trousers
Last but not least, if you're feeling adventurous, two-toned corduroy trousers can be both playful and chic. Whether you're playing with complementary shades or contrasting hues, it's a fresh look that's bound to turn heads.
In conclusion, corduroy is the fabric this fall. It's versatile, stylish, and oh-so-comfy. Whether you're going retro or modern, there's a pair of corduroy pants out there with your name on it. So, ladies, are you ready to rock the corduroy trend this season?
---
Looking for more fashion insights and tips? Don't forget to bookmark our page and stay updated on the latest trends!