Fashions
Fall Nails 2023: What's New in the Nail Art World?
Ah, the crisp autumn air, the sound of leaves crunching underfoot, and the vibrant hues of nature transitioning. Fall is upon us, and with it comes a fresh wave of nail art trends that are as warm and cozy as your favorite sweater. If you're looking to dip your fingers into the latest and greatest in nail artistry, you're in for a treat! From the rich and regal to the sleek and futuristic, 2023 is serving up some serious nail inspiration. So, grab your pumpkin spice latte, and let's dive into the world of fall nails.
Autumnal Elegance: Fall Nails 2023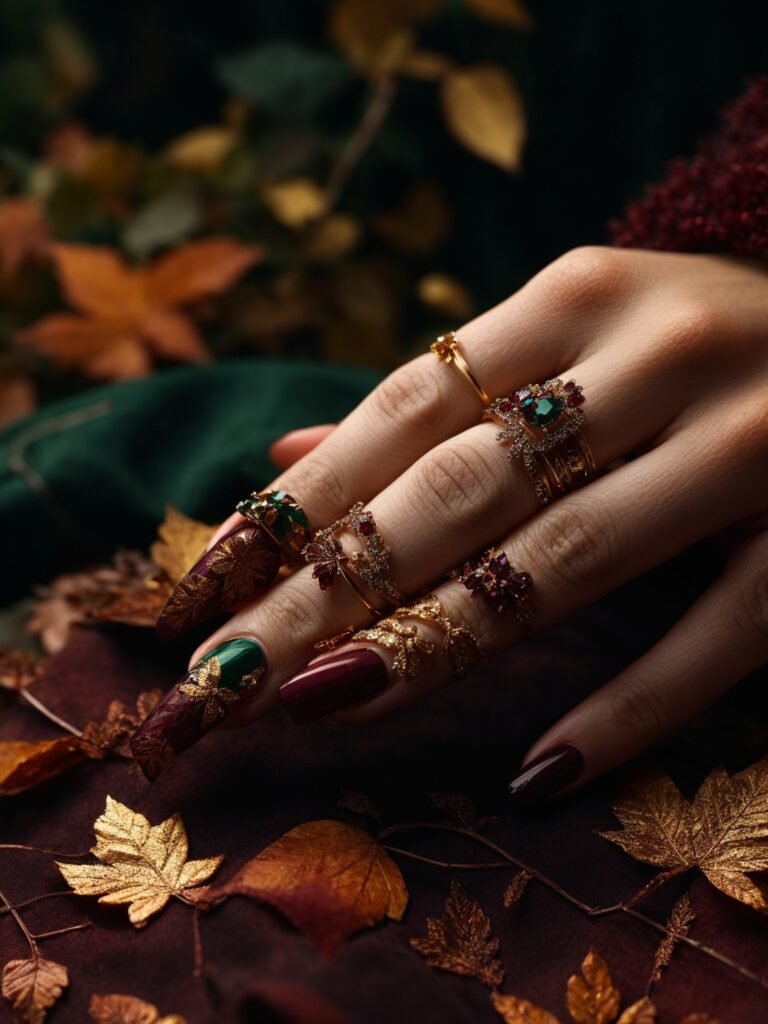 Imagine a canvas of deep burgundy, burnt orange, and forest green – colors that encapsulate the very essence of fall. Now, add subtle gold leaf accents and intricate patterns reminiscent of falling leaves. Voila! You have a nail design that screams autumnal elegance. This trend is all about embracing the rich and warm tones of the season and adding a touch of luxury with gold leaf. It's like wearing the beauty of a fall forest on your fingertips.
Abstract Artistry: Modern Fall Nail Designs
Step aside, traditional fall designs; abstract artistry is making waves this year. Think of bold color blocks, unpredictable patterns, and a mishmash of fall 2023 color trends. These designs are not just about the colors but the story they tell. With matte finishes and geometric patterns, this trend is for those who love to make a statement and let their nails do the talking. It's modern, it's edgy, and it's oh-so-chic.
Gothic Glamour: Dark and Mysterious Fall Nails
For those who like to walk on the dark side, the gothic glamour trend is your calling. Dive deep into shades of purples, blacks, and dark reds, and let your nails tell a tale of mystery and allure. Velvet textures, silver embellishments, and mystical symbols like moons or stars add an extra layer of intrigue. It's a blend of the dark, romantic vibes of goth with the warmth of fall.
Cozy Sweater Nails: Textured Fall Nail Art
Nothing screams fall like a cozy sweater, and now you can wear that comfort on your nails! Picture warm, neutral colors like beige, taupe, and brown, painted with patterns that mimic the coziness of knit sweaters. The tactile appearance, combined with cable designs, makes for a nail art that's both comforting and stylish. It's like wrapping your nails in a warm hug.
Harvest Festival: Vibrant and Playful Fall Nails
Fall is synonymous with harvest festivals, and this nail trend captures its vibrant spirit. Think bright and cheerful colors, adorned with playful designs of pumpkins, cornucopias, and fall foliage. It's a celebration of the season's bounty, right at your fingertips.
Eco-Friendly Essence: Sustainable Fall Nail Art
With the world moving towards sustainability, why should nails be left behind? This trend is all about earthy tones, nature-inspired designs, and most importantly, eco-friendly products. Biodegradable glitters and plant-based nail polishes are in vogue, making this trend not just beautiful but also kind to Mother Earth.
Retro Revival: Vintage-Inspired Fall Nails
The past always finds a way to inspire the present, and this fall, it's all about the retro vibes. Nails adorned with patterns from the 70s and 80s, like paisley and polka dots, are making a comeback. The fall color palette adds a modern twist to these vintage designs, making them both nostalgic and trendy.
Luxurious Layers: 3D Fall Nail Art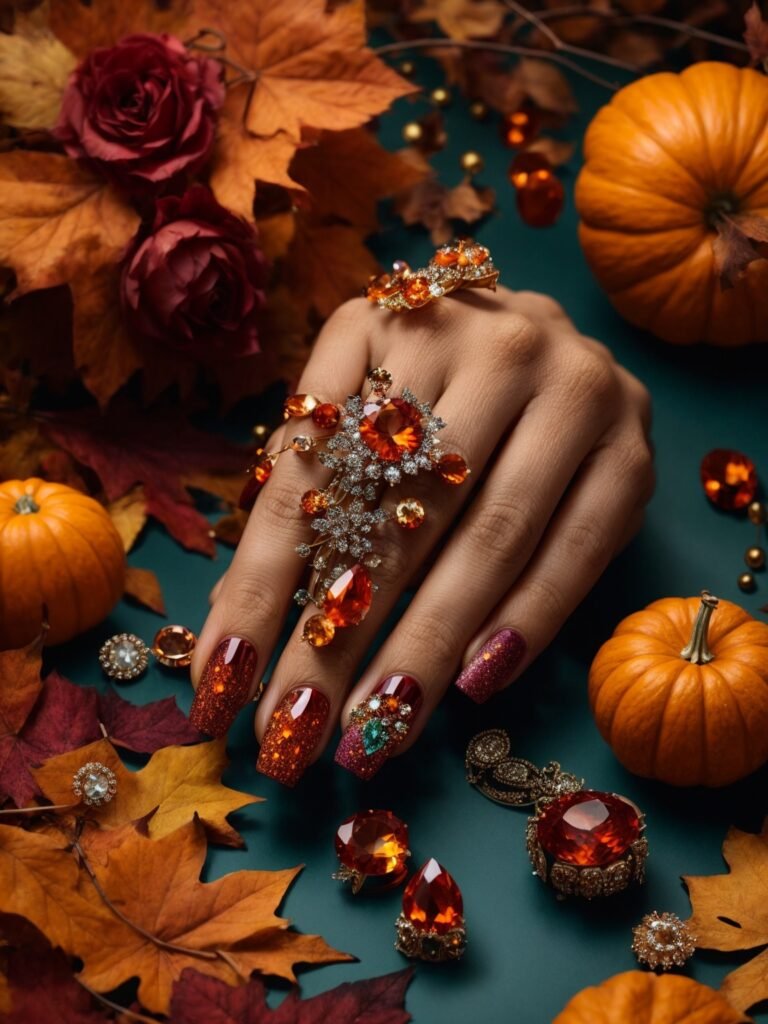 If you're looking to add some drama to your nails, the 3D nail art trend is for you. Autumnal colors combined with elements like rhinestones, studs, and layered polish techniques create a multi-dimensional look. It's all about depth, dimension, and a touch of luxury.
Minimalist Chic: Simplistic Fall Nail Designs
For those who believe in the mantra 'less is more', the minimalist chic trend is a perfect fit. Muted fall colors, combined with simple patterns and clean lines, create a look that's sophisticated and modern. It's a subtle nod to the season without going overboard.
Futuristic Fall: Holographic and Metallic Nails
Last but not least, fall 2023 is also about looking ahead. Holographic and metallic nail polishes are all the rage, giving nails a futuristic sheen. Autumnal motifs like leaves and branches, when painted with these polishes, create a sleek and modern look. It's a blend of the warmth of fall with the coolness of the future.
In conclusion, fall 2023 is shaping up to be an exciting time for nail art enthusiasts. Whether you're a fan of the classics or love to experiment with new trends, there's something for everyone. So, as the leaves start to fall, let your creativity soar and give these nail trends a whirl. After all, life's too short for boring nails!