Fashions
10 Trendy Fall Outfits for 2023: Your Ultimate Guide to Seasonal Style
Ah, the crisp air, the crunchy leaves underfoot, and the vibrant tapestry of autumn colors – fall is upon us, and it's time to transition our wardrobes! 🍂👗 Whether you're a fashion-forward individual or someone who prioritizes comfort, this guide will navigate through 10 trendy fall outfits that will have you stepping out in style in 2023. Buckle up, as we embark on a cozy, stylish journey through the world of fall fashion!
1. Cozy Casual Fall Outfit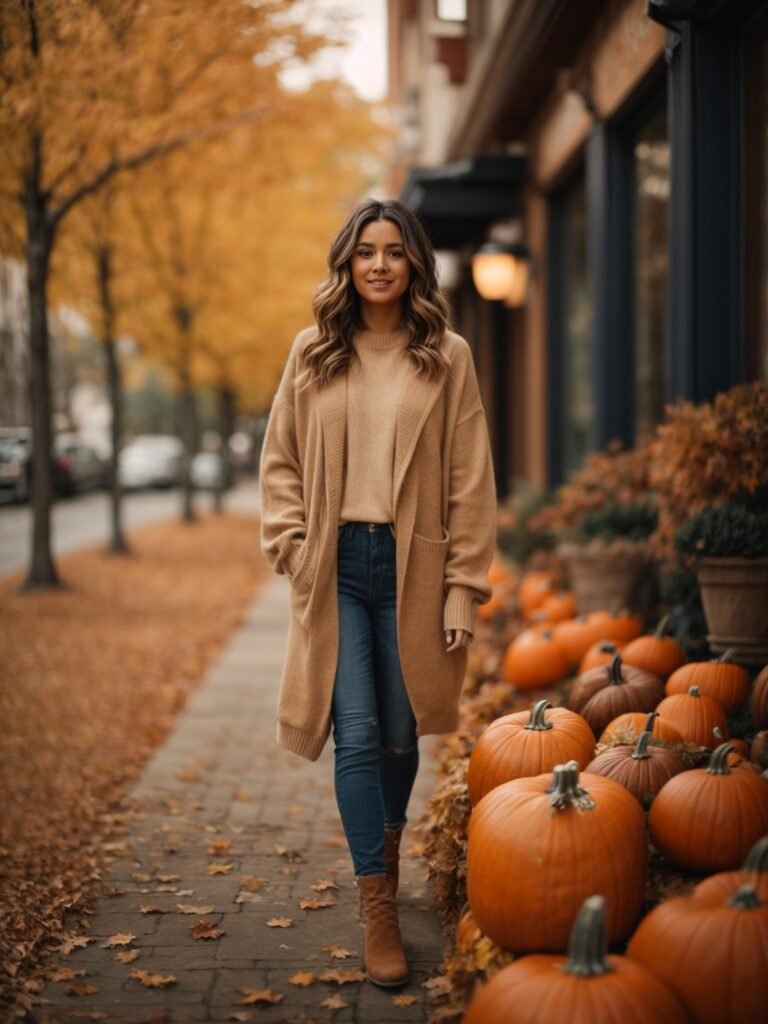 Embrace the Warmth and Comfort
Imagine strolling through a pumpkin patch, your hands wrapped around a warm cup of pumpkin spice latte, and leaves crunching beneath your boots. The Cozy Casual Fall Outfit is all about embodying the essence of fall while prioritizing comfort and style. Think beige oversized sweaters that whisper softness, paired with classic blue jeans and stylish ankle boots. Add a touch of autumnal charm with accessories like a warm scarf or a cute beanie. Remember, it's the cozy layers and neutral tones that make this outfit a timeless choice for those chilly fall days.
Styling Tips:
Oversized Sweaters: Choose a sweater that is both cozy and stylish, perhaps with interesting weaves or patterns.
Classic Blue Jeans: Opt for a comfortable fit that can be paired with various top options throughout the season.
Ankle Boots: A pair that is both comfortable for walks and stylish enough to elevate your outfit.
Accessories: Think scarves, beanies, and perhaps a cute tote bag for those farmer's market trips.
2. Elegant Evening Fall Outfit
Velvet Dreams and Starry Nights
When the evening calls for a touch of elegance, the Elegant Evening Fall Outfit answers with grace and style. Picture yourself in a dark green velvet dress that cascades down in a gentle flow, paired with sophisticated black heeled boots. The clutch in your hand is not just an accessory; it's a statement of class and functionality, holding your essentials as you navigate through a cozy, dimly lit café or a vibrant fall evening event.
Styling Tips:
Velvet Dress: Choose a length and style that resonates with your personal style and comfort.
Heeled Boots: Ensure they are comfortable and complement the elegance of the velvet.
Classy Clutch: Opt for one that adds a dash of glamour while being practical for your essentials.
3. Active Wear Fall Outfit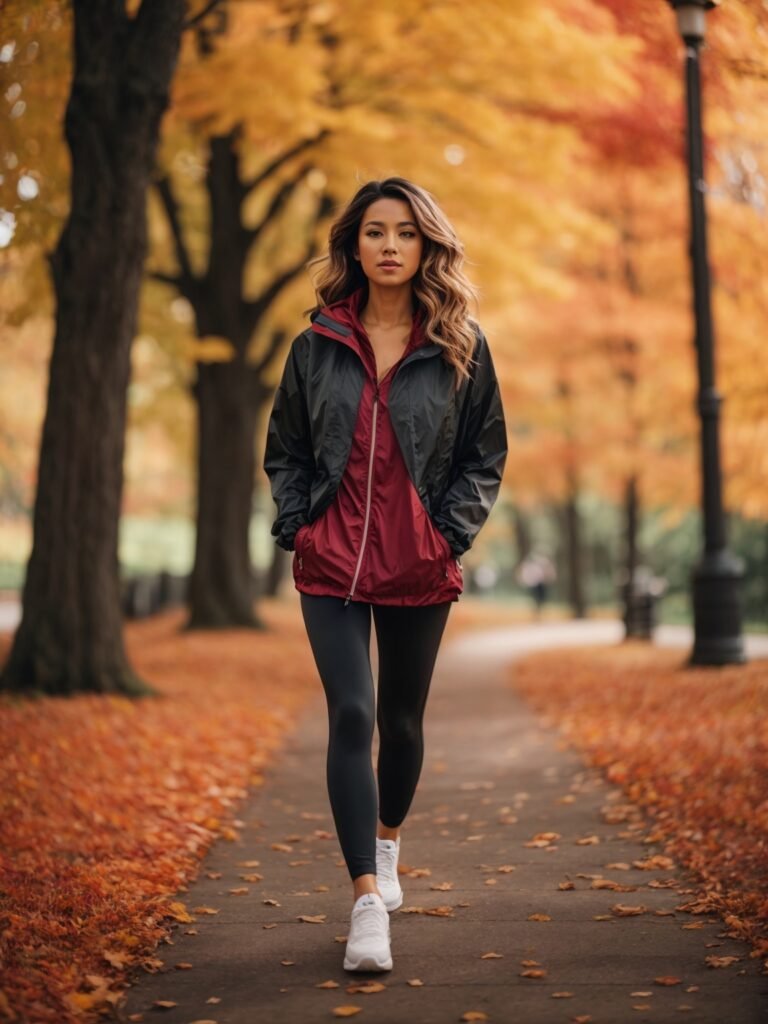 Energize Your Autumn Adventures
Fall is not just for cozying up indoors; it's a fantastic time to get active and explore the outdoors! The Active Wear Fall Outfit is your companion for those jogs through parks adorned with vibrant fall foliage. Envision black leggings that offer flexibility, paired with a windbreaker jacket that protects against the crisp fall air, and sneakers that cushion your journey through nature's autumn display.
Styling Tips:
Black Leggings: Ensure they offer comfort, flexibility, and breathability during your active pursuits.
Windbreaker Jacket: Choose one that provides enough warmth without compromising on mobility.
Sneakers: Opt for a pair that offers support and cushioning for those active adventures.
4. Office Wear Fall Outfit
Professionalism Meets Autumnal Elegance
Navigating through the modern urban environment to your workplace requires an outfit that blends professionalism with seasonal style. The Office Wear Fall Outfit is a harmonious blend of a sleek pencil skirt, a crisp white blouse, and a structured blazer, ensuring you step into your workplace exuding confidence and autumnal elegance.
Styling Tips:
Pencil Skirt: Choose a neutral color that can be paired with various blouses.
White Blouse: Ensure it's crisp, clean, and professional, providing a canvas to build your outfit upon.
Blazer: Opt for a structured, well-fitted piece that adds a layer of professionalism to your ensemble.
5. Vintage Fall Outfit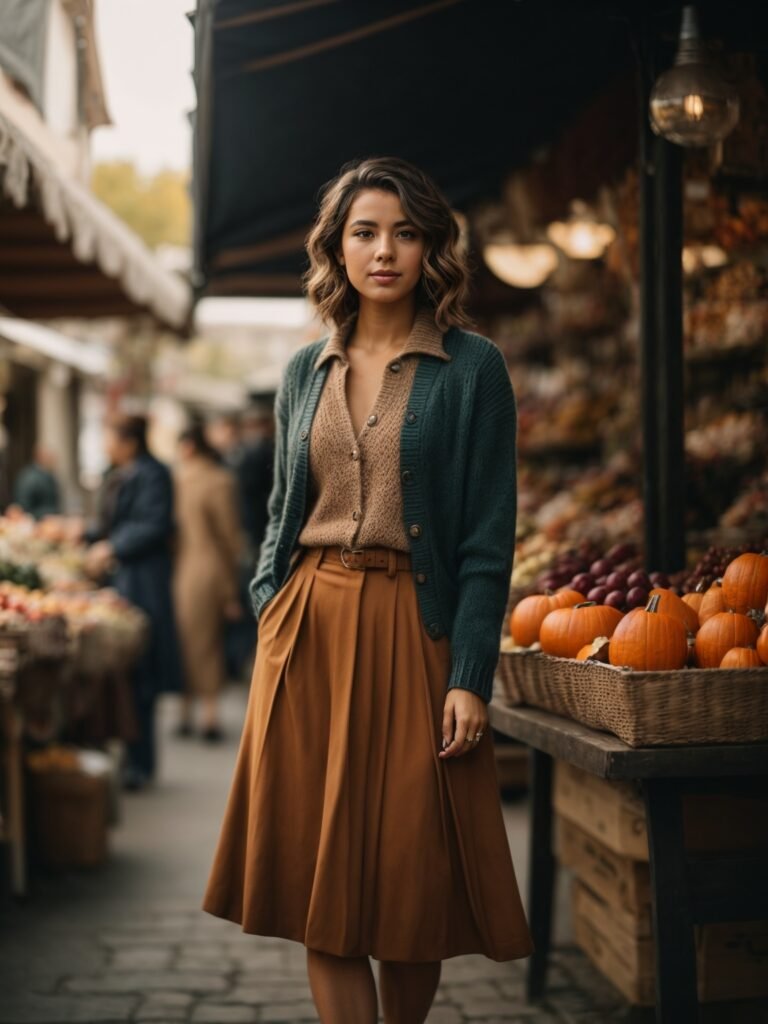 A Nostalgic Stroll through Autumn
As you browse through a rustic outdoor market, the Vintage Fall Outfit allows you to embody a nostalgic charm with a modern twist. Picture a midi skirt that dances with the autumn breeze, a knitted cardigan that whispers stories of yesteryears, and loafers that carry you through your autumn adventures with ease and style.
Styling Tips:
Midi Skirt: Opt for patterns or colors that resonate with the fall palette.
Knitted Cardigan: Choose a piece that adds warmth and a vintage charm to your outfit.
Loafers: Ensure they are comfortable for strolls and add a timeless elegance to your ensemble.
6. Bohemian Fall Outfit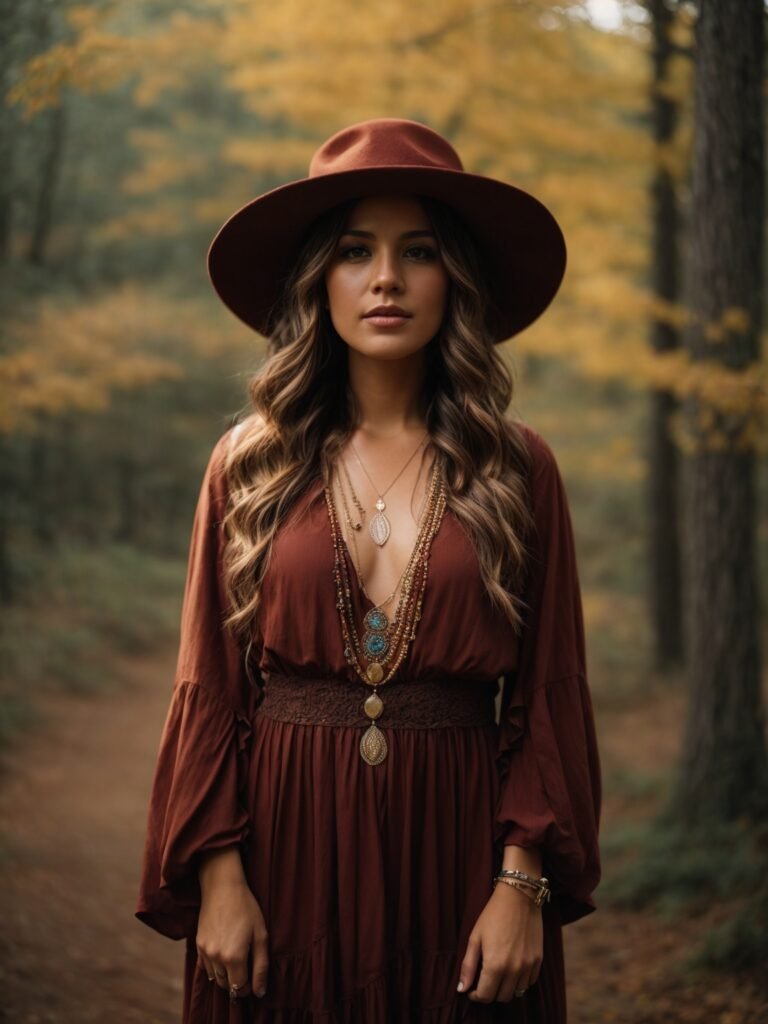 Unleash Your Free Spirit in Autumn
The Bohemian Fall Outfit invites you to immerse yourself in a peaceful, autumnal forest setting, where your spirit is as free as the birds migrating south. Imagine a flowy dress that whispers tales of adventures, a wide-brim hat that shades you from the gentle autumn sun, and layered necklaces that add a touch of mystique to your ensemble. This outfit is not just a style; it's an expression of your free spirit and love for nature's boundless beauty.
Styling Tips:
Flowy Dress: Opt for earthy tones and patterns that resonate with the fall scenery.
Wide-Brim Hat: Choose a hat that complements your dress and adds a dash of bohemian charm.
Layered Necklaces: Select pieces that add a personal touch and enhance the bohemian vibe.
7. Edgy Fall Outfit
Bold and Daring Through Autumn Streets
Navigate through urban alleyways with graffiti as your backdrop, embodying a bold and daring spirit with the Edgy Fall Outfit. Envision a leather jacket that adds a layer of rebellion, ripped jeans that speak of adventures untold, and combat boots that are ready to explore every nook and cranny of the urban jungle. This outfit is your ticket to exploring the vibrant and dynamic side of fall in the city.
Styling Tips:
Leather Jacket: Choose a fit that complements your body shape and adds a bold statement.
Ripped Jeans: Opt for a style and rip-level that aligns with your comfort and aesthetic.
Combat Boots: Ensure they are comfortable for exploration and add an edgy finish to your outfit.
8. Classic Fall Outfit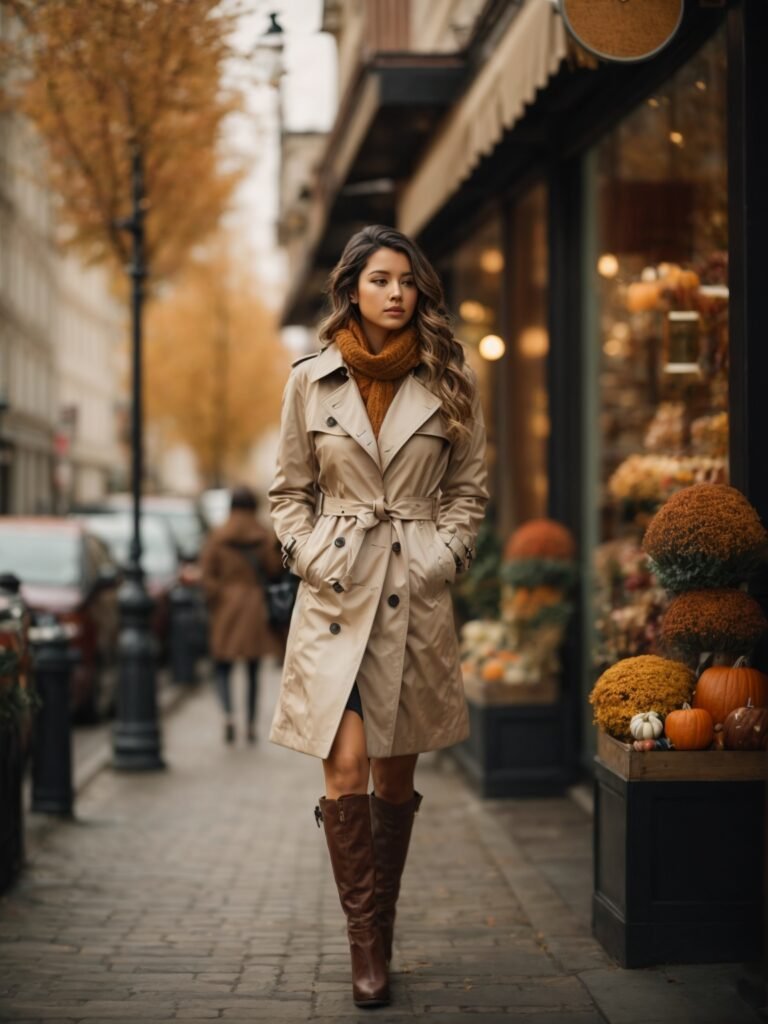 Timeless Elegance in Autumn Splendor
As you walk along a street lined with shops and autumn decorations, the Classic Fall Outfit wraps you in timeless elegance that never goes out of style. Picture a trench coat that shields you from the crisp air, a scarf that adds a dash of color and warmth, and knee-high boots that blend style and comfort seamlessly. This outfit is your passport to experiencing fall with a classic and evergreen style.
Styling Tips:
Trench Coat: Opt for a neutral color that can be paired with various outfits.
Scarf: Choose vibrant colors or patterns that add a pop of autumn to your ensemble.
Knee-High Boots: Select a pair that is both stylish and comfortable for walks through the autumn scenery.
9. Comfy Home Fall Outfit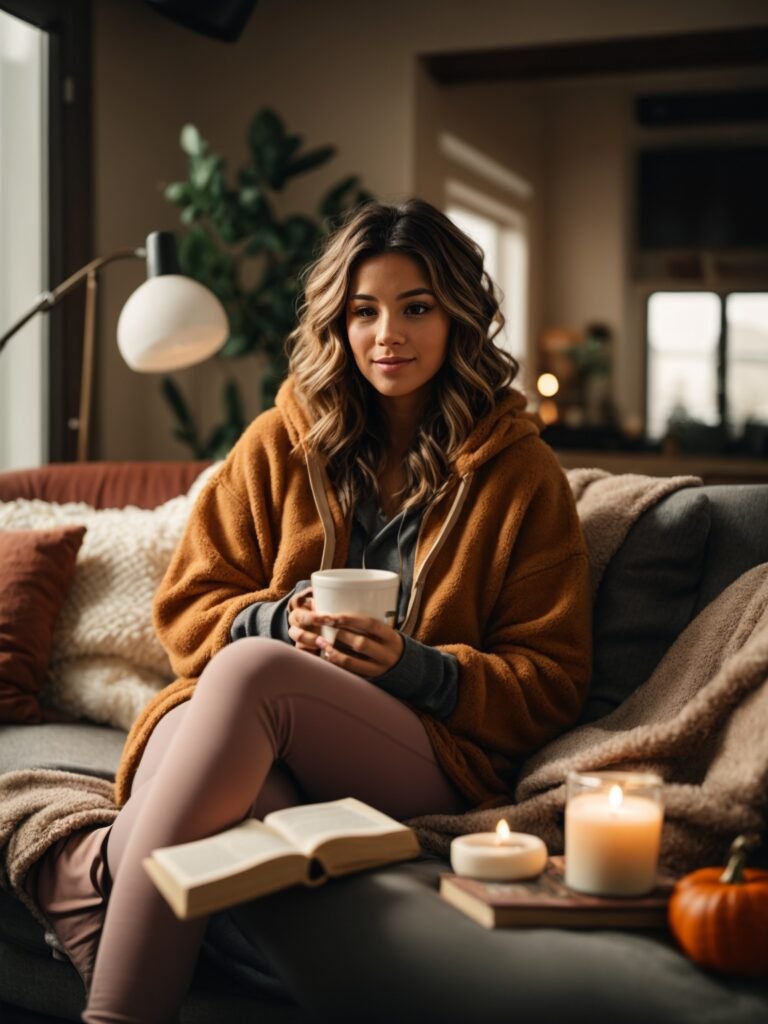 Cozy Bliss in Your Autumn Sanctuary
The Comfy Home Fall Outfit is your ticket to a blissful autumn sanctuary, right in the comfort of your home. Envision soft leggings that hug you with comfort, an oversized hoodie that becomes your cozy cocoon, and fluffy socks that warm your toes as you relax on a couch with a book and a warm drink. This outfit is not merely clothes; it's an embrace of warmth, comfort, and homely bliss.
Styling Tips:
Soft Leggings: Choose a pair that offers maximum comfort and flexibility.
Oversized Hoodie: Opt for a hoodie that provides warmth and a cozy fit.
Fluffy Socks: Select socks that are soft, warm, and bring a smile to your face.
10. Trendy Fall Outfit
Snap and Share Your Autumn Vogue
As you take a selfie in a mirror with fall décor in the background, the Trendy Fall Outfit is your canvas to showcase your style on social media. Picture a puffer jacket that is both stylish and warm, a mini skirt that adds a playful and chic vibe, and platform shoes that elevate your style (literally!). This outfit is your palette to paint your autumn style in the most voguish hues of the season.
Styling Tips:
Puffer Jacket: Opt for a style and color that pops and adds a trendy vibe to your outfit.
Mini Skirt: Choose a skirt that is playful, chic, and complements your jacket.
Platform Shoes: Ensure they are comfortable and add a stylish elevation to your ensemble.