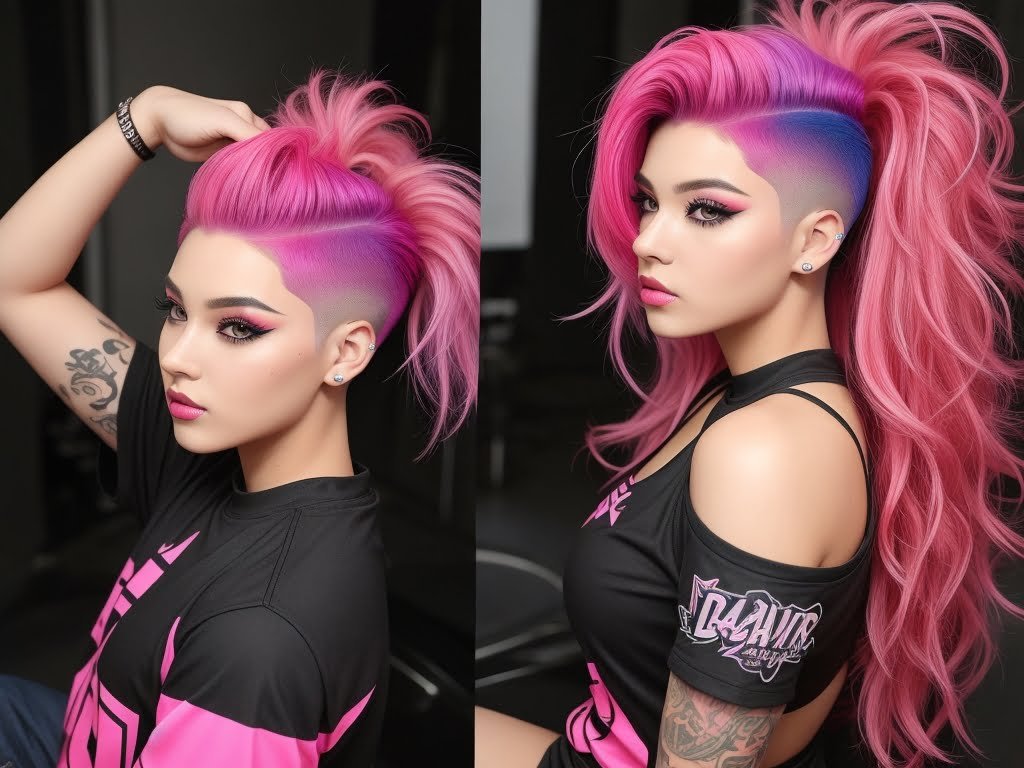 The ever evolving world of baddie hairstyles is like a roller-coaster: thrilling, filled with twists, and undeniably captivating. And just when you thought you'd seen it all, the "baddie" trend swoops in, blowing everyone away! Ah, the charm of these edgy, bold, and fierce looks that seem to scream individuality and style. So, let's dive deep into the waters of the 2023 baddie hairstyle scene.
1. Sleek High Ponytail
For the diva in you!
Remember when ponytails were considered a lazy-day hairstyle? Well, times have changed, darling! The Sleek High Ponytail has become a badge of honor, especially for our olive-skinned beauties. Picture this: glossy, jet-black hair gathered high and swishing down to the middle of the back. But the icing on the cake? Those bold baby hair designs gracing the forehead, a modern nod to retro aesthetics. This style screams sophistication, but with that ever-so-subtle hint of "I mean business".
2. Bold Undercut
Because playing safe is so last season.
When we say "bold," we mean it. The Bold Undercut is not for the faint of heart, but for those ready to make a statement. Imagine the sides of the head shaved close to the scalp, exposing smooth skin, contrasted by vibrant neon pink waves tumbling freely on top. It's a hairstyle that's equal parts edgy and beautiful—a perfect blend of yin and yang.
3. Half-up, Half-down with Accessories
All about that golden touch!
Simplicity marries bling in this Half-up, Half-down style. Our caramel-skinned divas sport thick, curly hair half-tied at the top. The twist? The inclusion of golden hair cuffs adding a regal touch. And let's not forget those freely cascading locks that bring the added oomph to the ensemble. A bit of glitz, a touch of natural beauty—what's not to love?
4. Long Box Braids
A timeless tribute!
Box braids are nothing new, but the baddie culture has put a fresh spin on them. Waist-length black braids, accentuated with gold beads and thread, make a statement that's both powerful and elegant. Rooted in rich tradition and adorned for the modern age, this style is a nod to culture, art, and individuality.
5. Vibrant Two-tone Waves
Surf's up on this hair wave!
Duality is the name of the game here. Imagine the top half of medium-length hair dyed jet black, while the bottom half surprises with neon blue. The gentle beach waves are an added touch that softens and beautifies this contrast, making it the ultimate head-turner. Dive in and ride this style wave!
6. Passion Twists
Twist, shout, and stand out!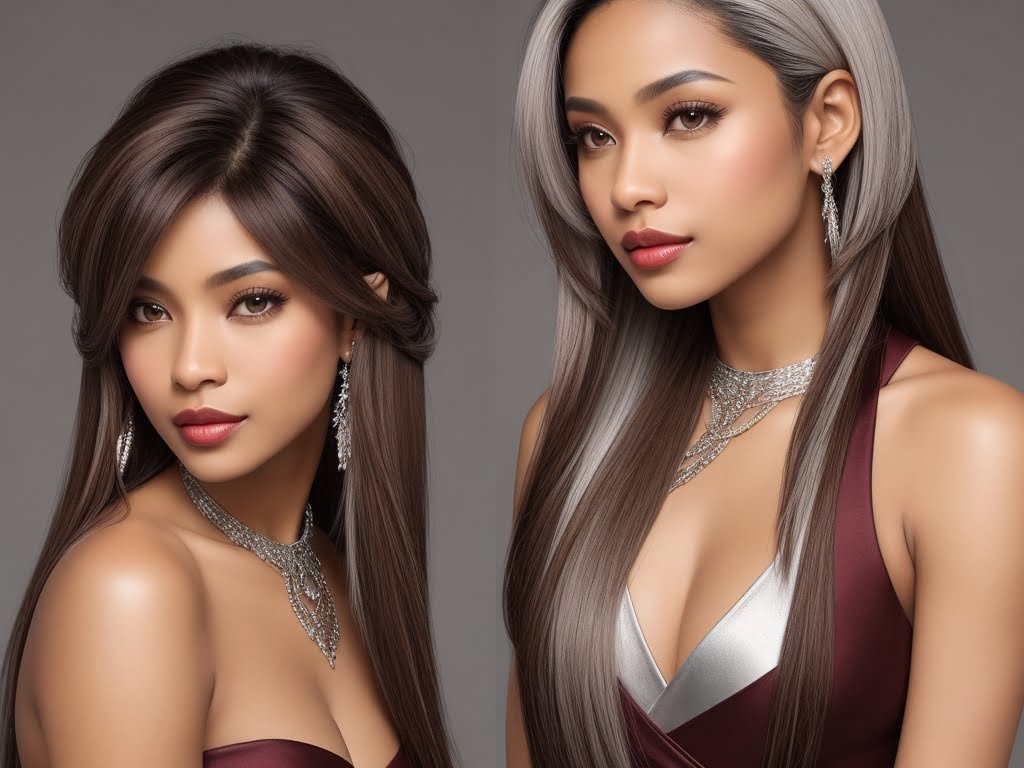 Few things compare to the magic of Passion Twists. Light brown-skinned lovelies showcase these shoulder-length twists adorned with burgundy highlights. And, lest we forget, silver hair rings that add an ethereal touch. It's a hairstyle that captures attention, evokes envy, and, most importantly, celebrates the wearer.
7. Blinged Out Space Buns
Out of this world, literally!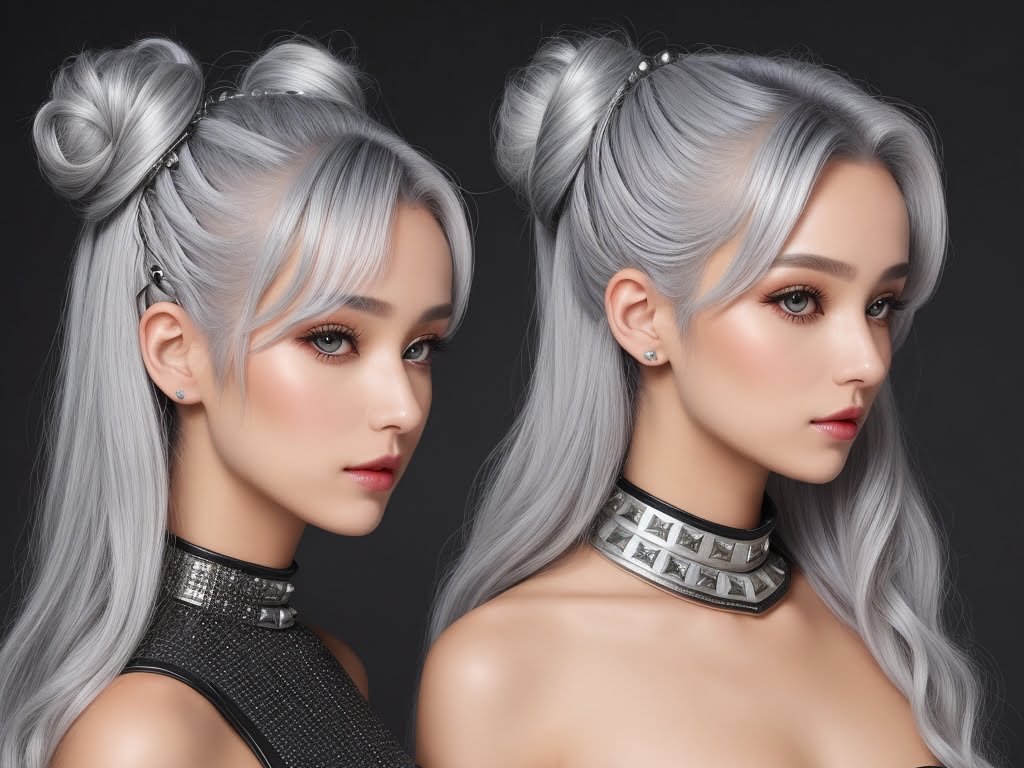 Why settle for the ordinary when the cosmos is within reach? The Blinged Out Space Buns are symmetrical, positioned high, studded with star-like hairpins, and surrounded by cascading waves of silver hair. It's a style that transports you to another galaxy—one where fashion meets the future.
8. Edgy Mullet Revamp
A flashback with a twist!
Mullets. Once a relic of the past, they've made a fierce comeback with a modern twist. Envision raven black hair, chin-length at the front, extending to a V-shaped drama at the mid-back. It's old-school meets new-school, and the classroom has never looked this stylish!
9. Cornrows with a Twist
A royal crown of beauty.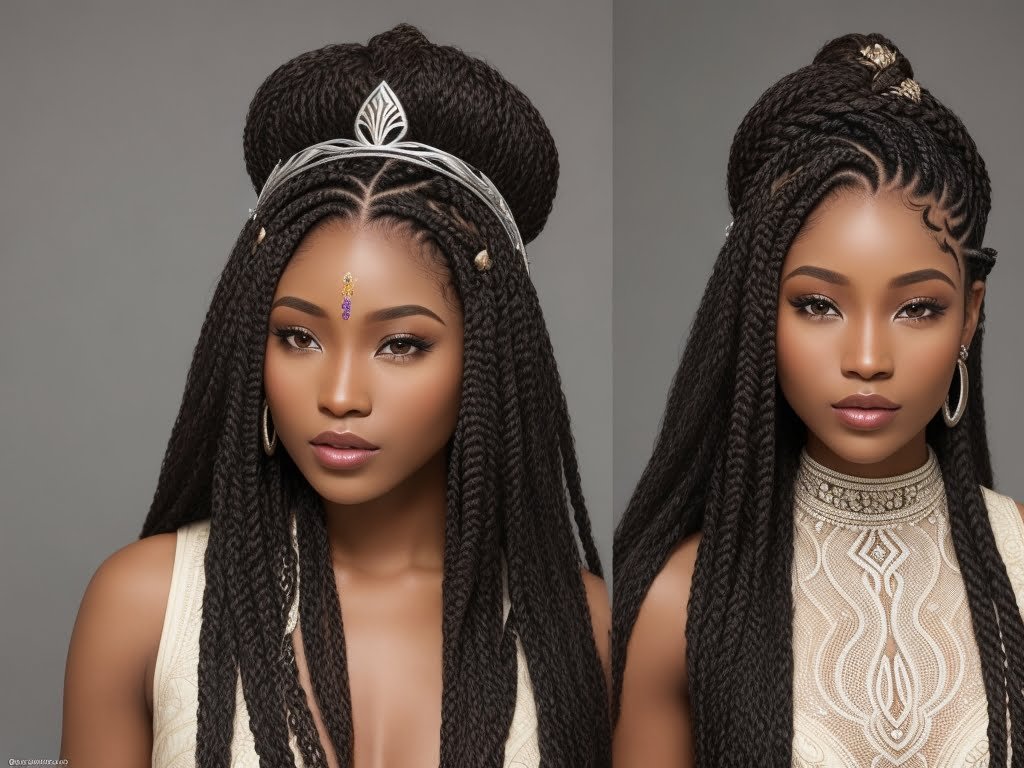 Cornrows have a storied history, but 2023 sees them getting an avant-garde makeover. Ebony-skinned queens adorn their heads with intricate cornrow designs, forming a crown. From this crown springs free-flowing waves, kissed with ash-brown highlights. It's a majestic style fit for royalty.
10. Fiery Red Bob with Fringe
Red hot and ravishing!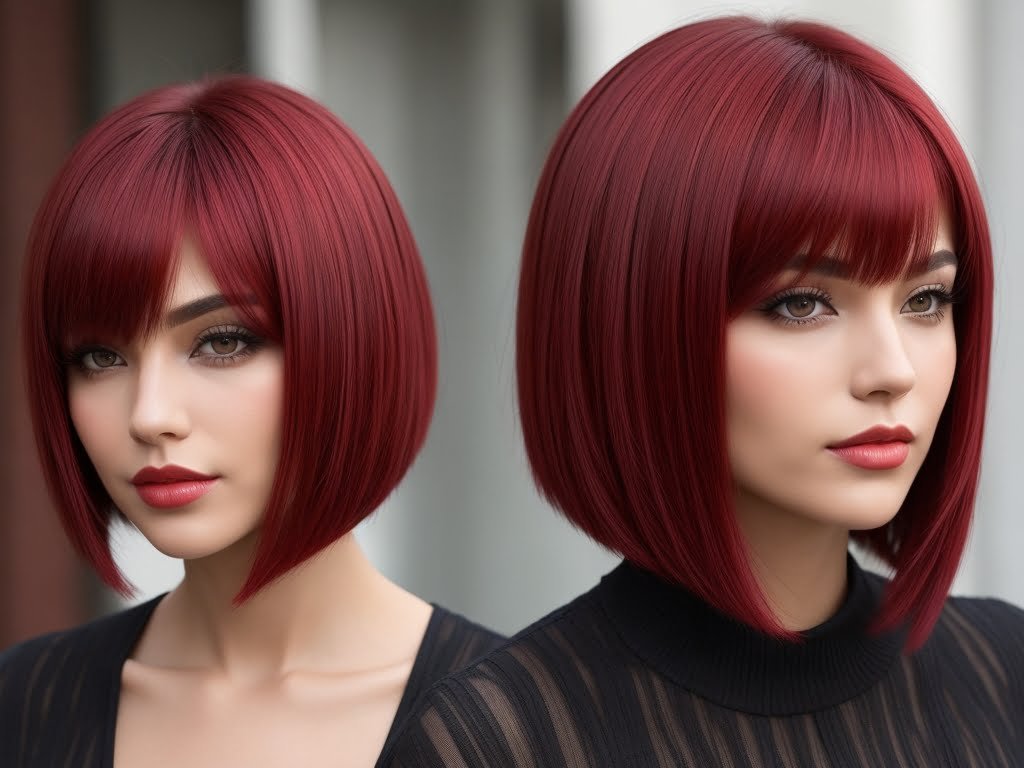 Fire up the scene with this blazing red, chin-length bob. What makes it pop? The straight-cut fringe that rests just above the eyebrows, lending an aura of mystery and allure. This style is for those ready to heat things up a notch!
There you have it, folks! The top 10 baddie hairstyles of 2023, each one as breathtaking as the last. Whether you're dipping your toes or diving headfirst into the trend, one thing's for sure 2023 is the year to let your hair do the talking!
Which of these will you be rocking? The ball's in your court, and the mirror awaits your reflection!
Stay stylish, stay fierce!
DIY Tips for Baddie Hairstyles
While these hairstyles can make anyone drop their jaws in awe, the best part is that many of them are achievable from the comfort of your home! Grab a cuppa, and let's delve into some DIY tips for our favorite baddie styles.
DIY: Sleek High Ponytail
Let's reach for the stars!
Preparation: Start by detangling your hair using a wide-tooth comb.
Boost the Shine: Apply a light hair serum to give it that glossy finish.
Getting it High: Lean forward, gathering all your hair at the crown.
Tighten the Game: Use a hair tie to secure your ponytail. Double it up for that extra lift!
Baby Hair Drama: With a toothbrush and some gel, style those baby hairs to your desired design. Curves, waves, or straight, let your forehead steal some limelight!
DIY: Bold Undercut
Short on the sides, party on the top!
Trust a Pro: While you can do an undercut at home, it's safer to have the sides shaved by a professional. They'll ensure it's even and clean.
Color Pop: For that vibrant neon pink, select a semi-permanent dye. Remember to wear gloves and follow the instructions to a T!
Style it Right: Use a wide-barrel curling iron for those loose waves on top. Finish with a light hairspray.
DIY: Half-up, Half-down with Accessories
Jazz up that crown!
Sectioning: Separate the top half of your hair from the bottom. Use a comb for precision.
Cuff it Up: Once you've secured the top half, slide in those golden hair cuffs at intervals.
Natural Waves: For the bottom half, use a curling wand or braid your hair overnight for a natural wavy texture.
DIY: Long Box Braids
Braid it like it's hot!
Preparation: Ensure your hair is clean and moisturized. This helps in making the braiding process smoother.
Sectioning: Divide your hair into small, even sections.
Braiding: Start braiding each section, adding synthetic braiding hair for length and volume.
Accessorize: Intersperse with gold beads and threads as you braid or after completing the braids.
DIY: Vibrant Two-tone Waves
Surf the dual wave!
Color Prep: Section off the bottom half of your hair and secure the top.
Dye Away: Following the dye instructions, color the bottom half neon blue.
Top it Off: Once rinsed and dried, color the top half jet black.
Wave Magic: Using a curling iron, create those soft beach waves. Don't forget a heat protectant!
And there you have it, a sneak peek into creating some iconic baddie hairstyles right in your sanctuary! While it's always fun to DIY, don't hesitate to consult or visit a professional for more intricate styles.
Remember, while trends come and go, confidence is the timeless accessory that pairs best with any hairstyle. So, whether you're rocking a fiery red bob or those ethereal passion twists, wear them with pride, grace, and a dash of audacity!