Fashions
Chic Short Christmas Nails for a Subtle Holiday Look
As the holiday season wraps its glittering lights around our hearts and homes, it's time to talk about the tiny details that can make your festive spirit truly shine—your nails. Short Christmas nails are the season's unsung heroes, offering a versatile canvas for expressing yuletide joy without the fuss of longer styles. In this article, we'll dive into the enchanting world of holiday manicures designed specifically for shorter nails. From the elegant simplicity of glossy reds and greens to the intricate designs of snowflakes and reindeers, we'll showcase a variety of styles that celebrate the magic of the season. Whether you're a fan of minimalist chic or glittering glam, these short Christmas nails ideas are sure to inspire your next holiday look, keeping you on-trend and in the festive spirit all season long.
1.Festive Elegance: Chic Short Christmas Nails to Celebrate the Season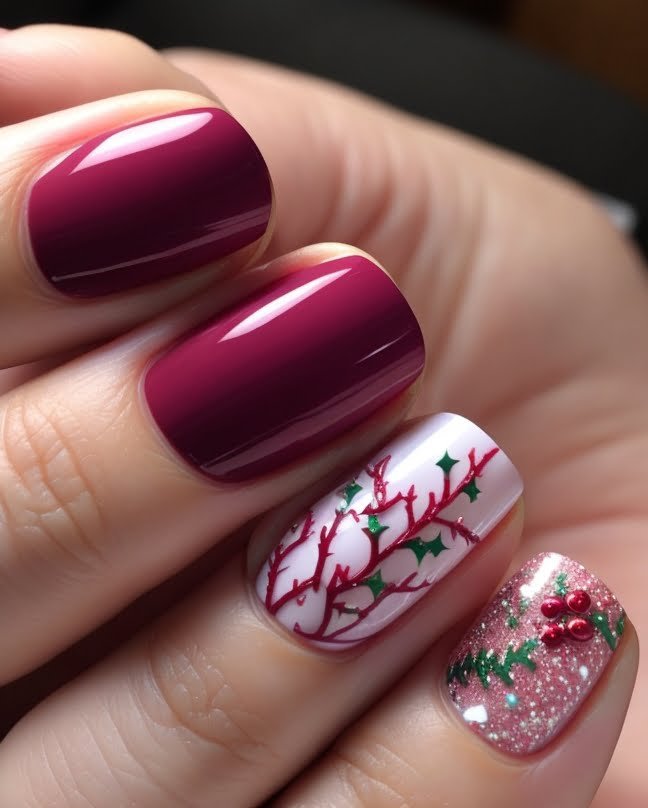 Celebrate the joy of the holiday season right at your fingertips with these charming short Christmas nails! Perfect for those who love a touch of elegance with their festive cheer, this nail design harmoniously blends traditional Christmas hues with a modern aesthetic. The rich, deep red polish emanates a sophisticated vibe, while the singular nail with an intricate pattern of holly branches and berries adds a whimsical touch. The highlight is the accent nail, where sparkling glitter meets dainty holly details, crowned with a trio of tiny red gems that resemble holly berries. It's a look that's both festive and fashion-forward, proving that short Christmas nails can make a big statement. Whether you're unwrapping gifts or raising a glass to the season, these nails are sure to add a sparkle to your holiday ensemble
2.Candy Cane Dreams: A Twist on Classic Short Christmas Nails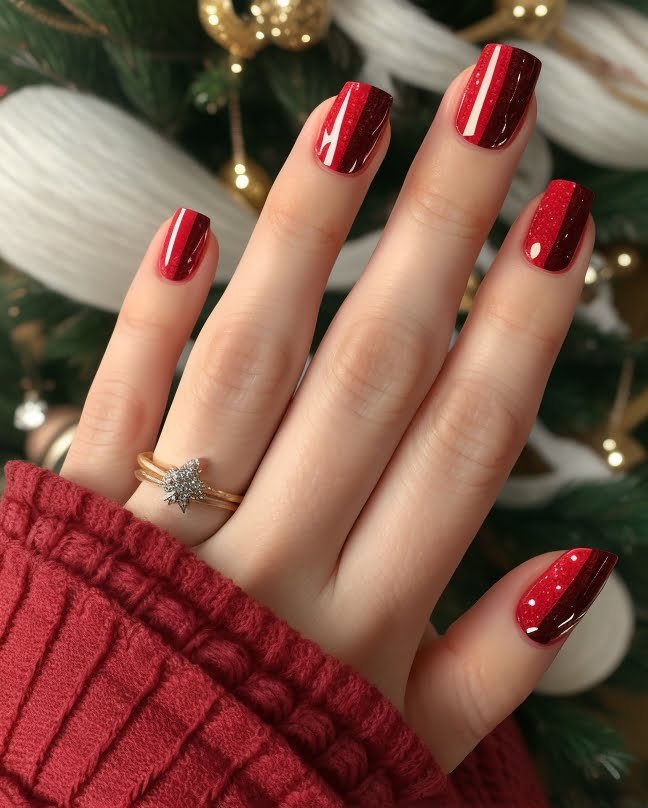 Step into the holiday spirit with a delightful twist on the classic short Christmas nails. Pictured here is a design that's as warm and inviting as a cup of hot cocoa on a chilly December evening. Each nail is adorned with a luscious red base, reminiscent of the season's iconic reds, from Santa's suit to the ripest berries on the holly. Alternating between a glossy plain finish and a sprinkle of sugary glitter, these nails evoke the timeless charm of candy canes. The addition of thin white stripes creates a sweet, confectionery illusion, making each nail a miniature holiday celebration of its own. Perfect for the stylish woman who wants to infuse her look with a touch of seasonal joy without sacrificing elegance, these short Christmas nails are a testament to the fact that the best festive gifts come in small packages.
3.Winter Wonderland: Sleek & Chic Short Christmas Nails
Dive into the festive allure of the season with this sleek and sophisticated short Christmas nails ensemble. These nails are a modern twist on holiday elegance, featuring a deep, shimmering burgundy that glistens like a fine red wine by the light of a crackling fire. The glossy, glitter-infused polish on four of the nails captures the twinkling essence of a Christmas tree, while the solitary matte white nail stands out like a snowflake on a crisp winter day. This minimalist approach to holiday nail art is for the contemporary woman who celebrates the season with a refined taste and a touch of sparkle. It's a look that's as suited for a chic holiday gathering as it is for a cozy evening wrapped in the warmth of a winter knit. Embrace the spirit of the holidays with these enchanting short Christmas nails, and let your hands tell a story of festive sophistication.
4.Festive Finesse: Playful Short Christmas Nails Design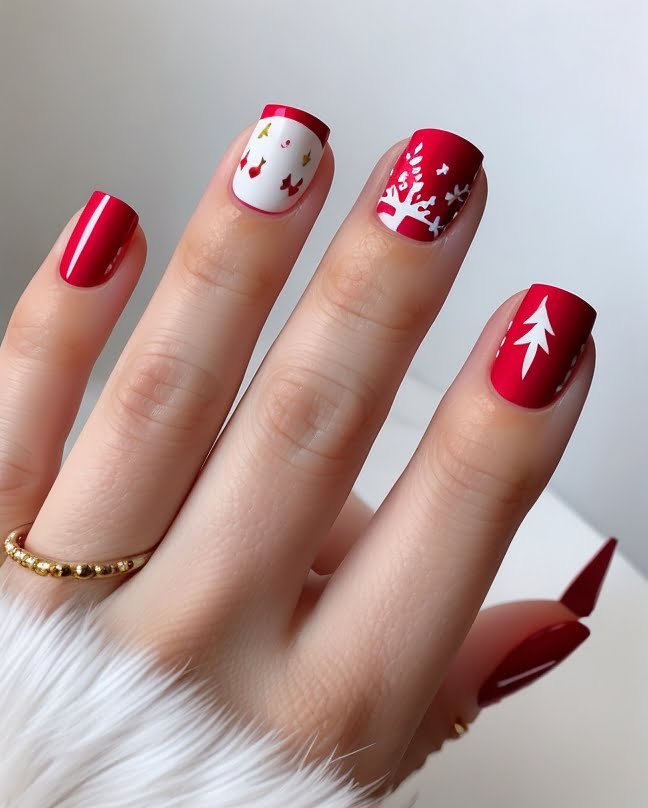 Step into the holiday season with flair sporting these adorable short Christmas nails that are as festive as they are fashionable. The vivid red polish provides a classic Christmas backdrop, making it a perfect canvas for the charming white reindeer and tree accents that frolic across the nails, evoking the magic of a holiday wonderland. The crisp white base with dainty golden stars on the accent nail adds a touch of whimsy, bringing to life the joy and playfulness of the season. This manicure is a delightful nod to the most wonderful time of the year, designed for the stylish woman who delights in adding a sprinkle of yuletide cheer to every detail of her ensemble. Celebrate in style with these enchanting short Christmas nails, guaranteed to be a conversation starter at your next holiday soiree.
5.Winter Whispers: Chic Short Christmas Nails with a Sparkle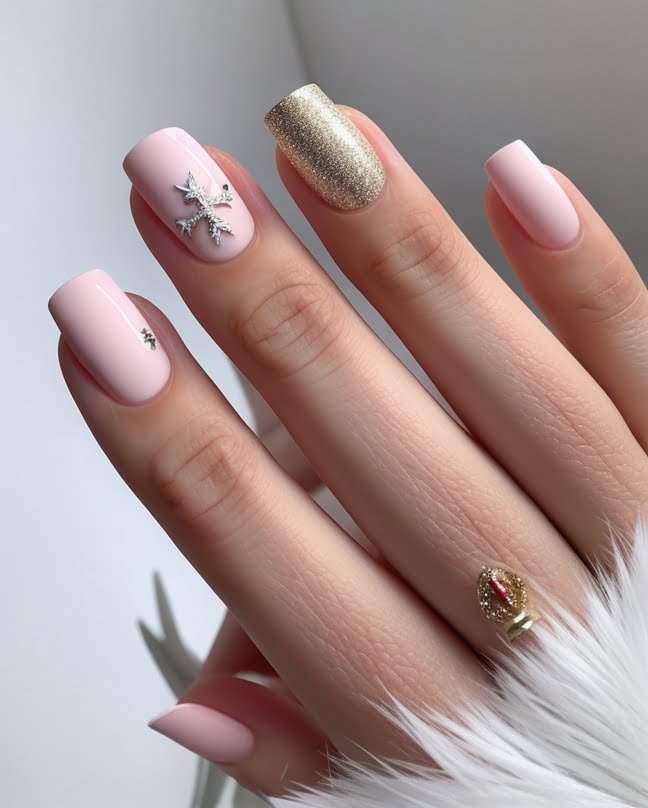 Capture the serene essence of a snowy December day with this chic short Christmas nails design. The soft pink hue whispers the quiet calm of a winter's morning, while the single golden glittered nail brings a burst of festive sparkle, reminiscent of a peaceful snowfall glistening under the holiday lights. Adorned with delicate starry embellishments, these nails are like little celestial celebrations at your fingertips, perfect for the modern woman who loves to express her holiday spirit with a touch of elegance and understated glamour. This nail art design blends seamlessly with the cozy warmth of the season, making it a sophisticated choice for anyone looking to sprinkle a subtle Christmas charm on their daily style.
6.Holiday Elegance: Glamorous Short Christmas Nails with a Touch of Sparkle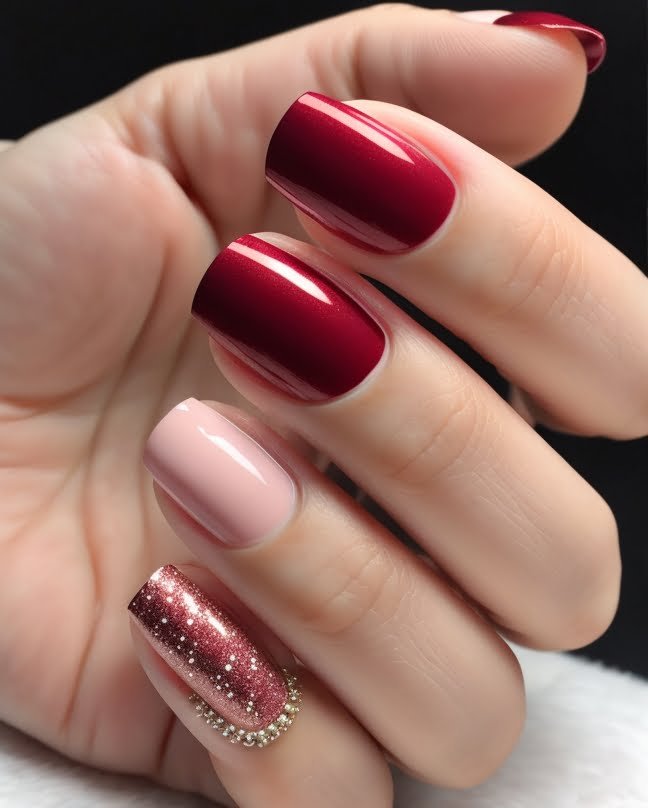 These short Christmas nails bring to life the holiday cheer with their sophisticated palette and a touch of sparkle. A sumptuous deep red dominates the set, evoking the rich warmth of mulled wine by the fire, while a delicate pink nail adds a soft, feminine contrast that whispers of winter's gentle touch. The standout feature is the accent nail, dipped in a shimmering rose gold glitter and adorned with a crescent of tiny gems, resembling a frosted morning where the first rays of sun meet the crisp snow. This nail design is a testament to the festive season, combining the traditional colors of Christmas with a modern twist that's as stylish as it is festive. Perfect for the woman who wants to embody the spirit of the holidays in every detail, these nails are a small but powerful expression of joy and elegance.
7.Crimson Sleek: Chic Short Christmas Nails for a Festive Flair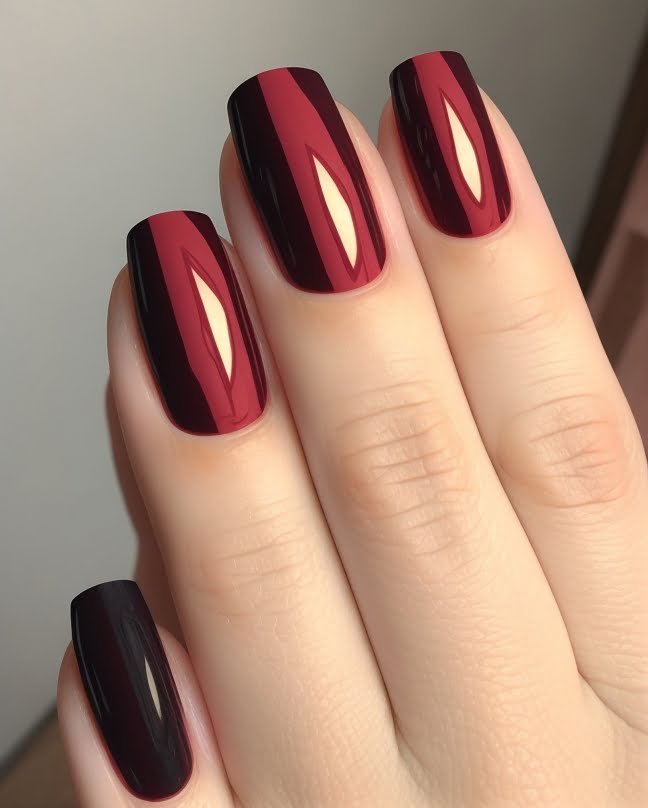 Unveil a touch of holiday luxury with these enchanting short Christmas nails, showcasing a depth of color as rich and inviting as a glass of fine merlot. The flawless application reveals a glossy, almost liquid-like surface that catches the light and seems to glow from within, a testament to the sophisticated allure of the holiday season. This nail design is an ode to minimalist elegance, proving that Christmas beauty lies in simplicity and grace. Each nail is a canvas of deep, velvety red, edged with precise lines that define and elongate, creating an effect that is both modern and timeless. It's the perfect choice for a discerning woman who seeks to wrap her look in the understated luxury of the festive season. These nails aren't just a statement—they're an intimate celebration of style and seasonal charm, wrapped up in the perfect polish.
8.Snowflake Waltz: A Classic Short Christmas Nails Ensemble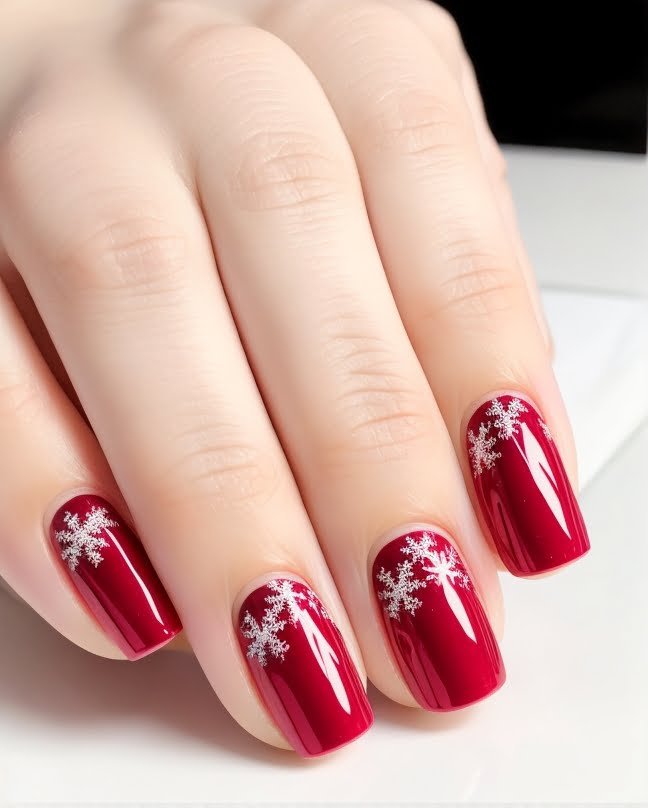 Step into the holiday season with a sprinkle of winter magic adorning your fingertips. These short Christmas nails capture the essence of Yuletide joy, dressed in a radiant red that echoes the warmth of a crackling hearth. Each nail is crowned with a delicate snowflake, a whisper of the winter's serene beauty and intricate craftsmanship. The design strikes a charming balance between festive cheer and sophisticated glamour, perfect for those who carry the spirit of Christmas with a touch of elegance. This look isn't just about making a statement; it's a celebration of seasonal wonder that you can wear, a fusion of tradition and trend that adds a dash of festive sparkle to your every gesture.
9.Crimson Bliss: Starry Snowflake Elegance on Short Christmas Nails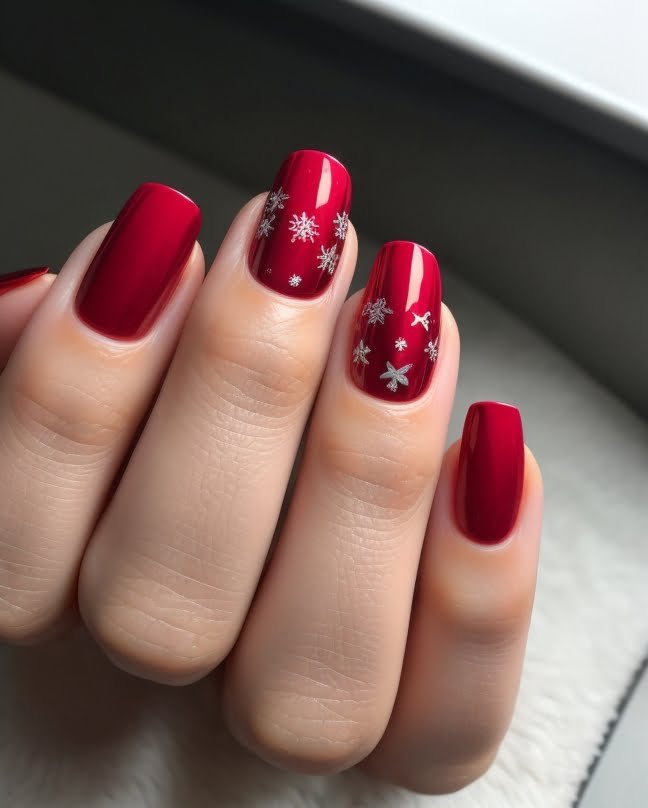 Embrace the festive joy and sophistication with these glamorous short Christmas nails, a true embodiment of the holiday spirit with a touch of starry snowflake elegance. The radiant crimson base of the nails serves as the perfect backdrop for the white snowflakes and stars that seem to dance and twinkle with winter's glee. This design is not just a nod to the traditional colors of the season but a celebration of the modern woman's desire for a stylish yet playful expression of yuletide cheer. Ideal for holiday parties, intimate gatherings, or simply brightening up a cold winter's day, these nails are a fabulous way to show off your Christmas spirit in a polished and personal way. With each snowflake uniquely adorning your nails, they'll surely capture the admiration of onlookers and add an air of enchantment to all your holiday moments.
10.Festive Finesse: Snowflake Kissed Short Christmas Nails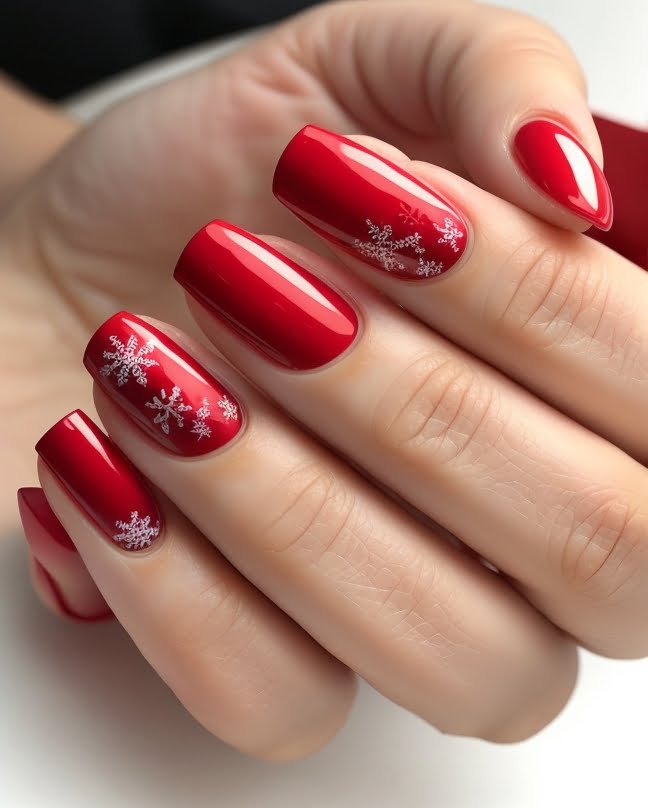 Step into the holiday season with panache as you don these stunning short Christmas nails, where classic meets chic with a sprinkle of seasonal magic. The lustrous deep red hue captures the quintessence of Christmas warmth, while delicate snowflakes gently rest on the tips, bringing a whisper of winter's poetry to your fingertips. This design marries the timeless allure of red nails with the playful charm of snowflakes, crafting a look that's both fashionable and festively fitting. Whether you're wrapping presents, clasping a warm mug of cocoa, or raising a glass in celebration, these nails are your perfect accessory for every merry moment. With this captivating manicure, you're not just ready for the holiday—you're setting the trend with every graceful gesture.