Fashion
Bikini Trends for 2023: Best Bikinis for Petite Women
Ah, the thrill of a new year! Especially when it's all about refreshing our wardrobe. And what's more refreshing than diving headfirst (pun intended) into the latest bikini trends? 🌊 Now, ladies with petite frames, listen up. 2023 is looking bright, vibrant, and incredibly stylish for you. From the radiant neon hues of the 60s to the textured appeal reminiscent of nature's coral reefs, there's a bikini style waiting just for you. Hold onto your sunhats, because we're about to take a deep dive into the ten best bikini trends for 2023!
1. Neo-Vintage Fusion
Remember those iconic high-waisted bikinis that graced beaches in the 60s? Well, they're back, and they've got a neon twist! Neo-Vintage Fusion marries the classic high waist with the vibrancy of modern neon prints. Perfect for petite ladies, this style elongates the legs while offering a snug fit. So, the next time you're lounging by the pool, let that neon splash do the talking. It's a little bit of Audrey Hepburn meets modern-day rave.
2. Sustainable Elegance
Saving the planet has never been more stylish! Sustainable Elegance brings forward bikinis crafted from recycled materials. The raw, organic textures contrast beautifully with shimmering aqua and turquoise tones. It's not just a bikini; it's a statement. A statement that says, "I love the Earth as much as I love looking fabulous."
3. Athleisure Crossover
For those always on the move, even at the beach, the Athleisure Crossover bikini trend has got you covered. Borrowing sleek lines from activewear, these bikinis come with a sporty mesh overlay. Whether you're planning to surf, play volleyball, or simply bask in the sun, this style ensures you do it in style.
4. Tropical Minimalism
Sometimes, less is more. And the Tropical Minimalism trend proves just that. These bikinis, simple in cut, focus on the tiniest, most delicate hand-painted tropical flora. The pristine white base serves as a canvas, making the artwork pop. It's subtle, it's chic, and it screams tropical vacation.
5. Holographic Dream
Ever wished to embody the ethereal beauty of mermaids? With the Holographic Dream trend, you can. These bikinis shift in color with the light, reminding one of enchanting mermaid scales or the inside of a seashell. It's mesmerizing, it's magical, and it promises to make heads turn.
6. Cut-out Creativity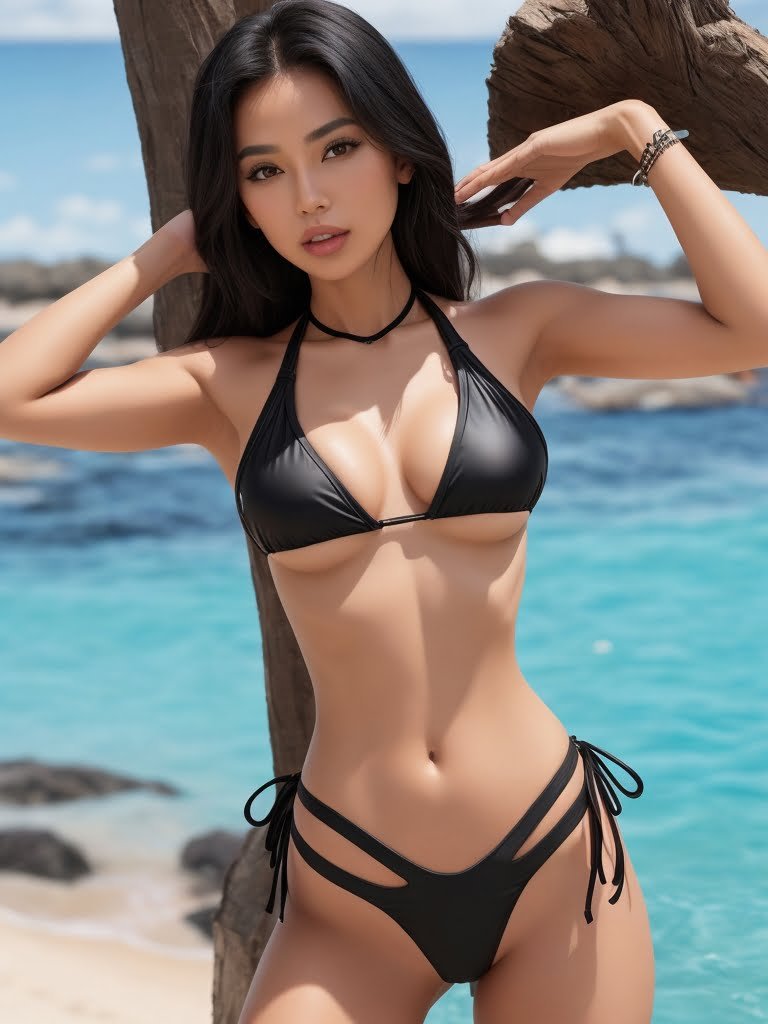 A little edgy, a little chic. Cut-out Creativity introduces bikinis with strategically placed cut-outs, teasingly revealing bits of skin. And those neon pipings? They add a futuristic contrast, making sure your bikini game is not just strong, but avant-garde.
7. Bohemian Luxe
For those who have a wandering soul and a love for all things vintage, Bohemian Luxe is the trend to embrace. Gold and silver thread embroidery, subtle beading, and tassels give these bikinis a rich, boho-chic feel. It's like wearing a piece of art.
8. Retro Futurism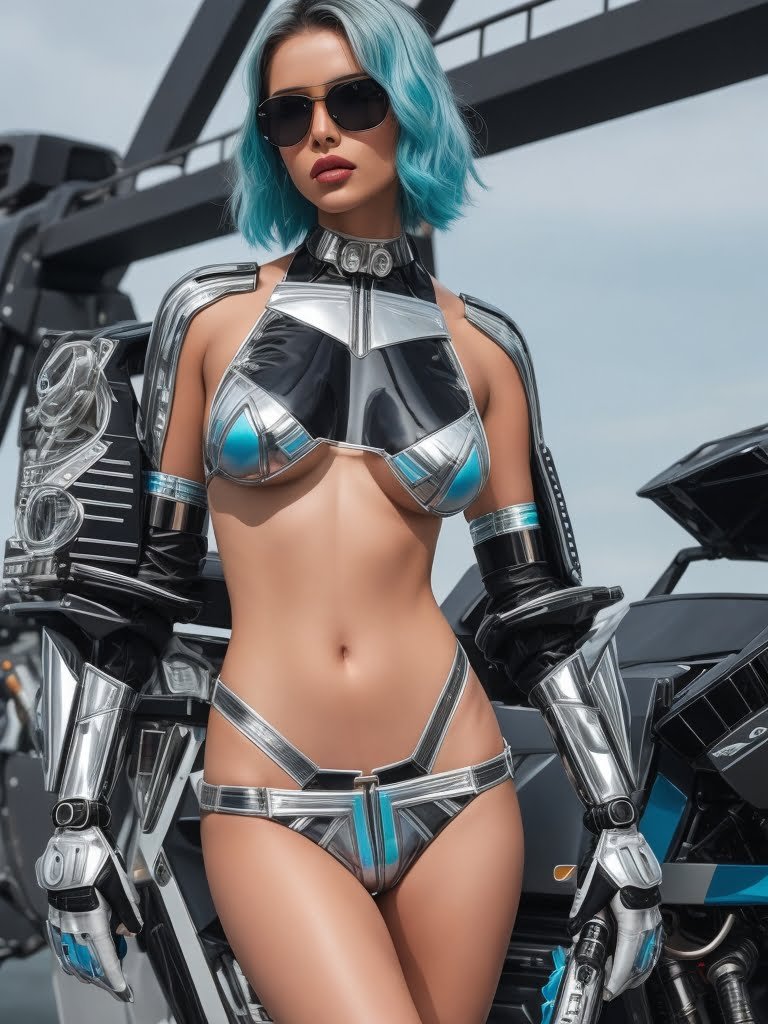 Blast to the past… or is it the future? Retro Futurism takes cues from sci-fi, presenting bikinis with metallic silver components. But wait, there's a twist! These futuristic elements are juxtaposed with bold, block colors straight out of an 80s palette. It's the past and the future, all in one bikini.
9. Textured Layers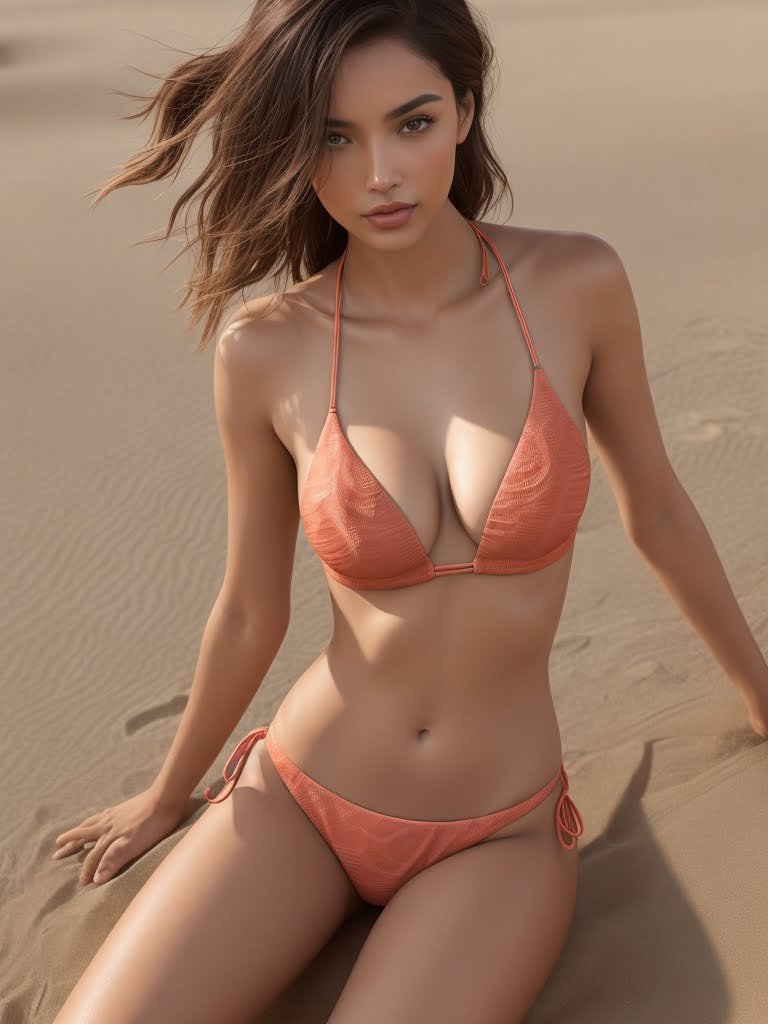 Nature lovers, this one's for you. Textured Layers offers bikinis with a 3D surface mimicking either coral reefs or the ripples in the sand. In muted earthy tones, these bikinis aren't just a fashion statement; they're an ode to Mother Nature.
10. Monochromatic Statement
Last but definitely not least, Monochromatic Statement is for those who love to play with textures over colors. Dive into a deep cobalt blue bikini, with a fascinating play of matte and gloss finishes. It's a symphony in a single color.
---
Wrap-Up: As we bask in the glory of 2023, it's evident that the world of bikinis is as diverse and exciting as ever. Especially for our petite ladies, the plethora of choices ensures there's something for everyone. Whether you're the sporty type, an eco-warrior, a lover of the classics, or someone with an eye for the avant-garde, there's a bikini trend waiting just for you. So, as the sun shines brighter and the waters beckon, which trend will you be diving into?
Stay tuned as we unravel more fashion secrets for every body type. Because, remember, the beach is for everyone! 🌴